If the error message "FIXTURE NOT CALIBRATED" is displayed during startup, follow these steps to upload the calibration file back into the fixture.
Each Vortex unit is individually calibrated at the factory to ensure colour consistency and accuracy. If for some reason the calibration data on the fixture gets corrupted, it is possible to upload the calibration data back into the fixture.
If you get this error message, please contact service@creamsource.com with the serial number of the affected unit, and the circumstance under which the error message was displayed (e.g. After firmware update? Between what versions?). We will email you the correct calibration file for this fixture.
To connect to the fixture you will need to use a USB Type A male to male cable, an example of such cable is found here: Pearstone USB 3.0 Type A Male to Type A Male Cable - 6'
Steps for installing:
Download & Unzip the zip file - Vortex Calibrate
Run 'setup.exe' file and follow instructions
Steps for Connecting to a Vortex: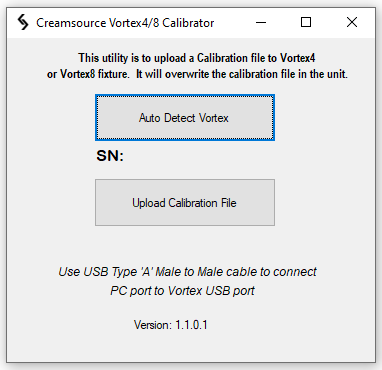 Connect Vortex to PC using USB 'A' male to male cable
Power on Vortex, wait for it to boot (The USB cable should be connected BEFORE connecting power)
Press "Auto Detect Vortex" button, it should find it and fill in the SN field
Steps for uploading calibration to your unit: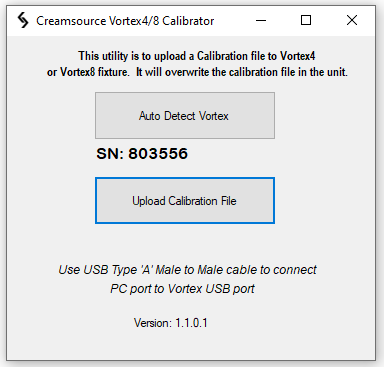 Connect to Vortex as above
Press "Upload Calibration File" and select the *.cv4 or *cv8 calibration file provided by Creamsource
It takes some time to do the calibration - you should get a 'success' message when done

It is safe to turn off unit now and unplug USB cable